You are viewing content from a previous election (August 7th, 2018). You can view information for the current election here.
Rick Larsen
Democrat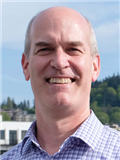 Representative Rick Larsen is a moderate Democrat who has been a strong advocate for jobs, transportation, and infrastructure projects in the 2nd District. Before serving in Congress, he served on the Snohomish County Council and worked on economic development for the City of Everett. Rep. Larsen has also supported efforts to protect voting rights, fought to reform student loans, and championed Wall Street reform. Unfortunately, Larsen joined Republicans to repeal some banking rules imposed after the Great Recession intended to prevent another economic collapse.

He is running against Uncle Mover, a perennial candidate who runs to advertise his business, Democrat Collin Richard Carlson, who is running on his entirely rewritten federal budget plan, Libertarian Brian Luke, Independent Gary Franco, and Green Party candidate Stonewall Jackson Bird, who is running on progressive values but isn't running a competitive campaign.
Rep. Larsen is the best choice in this race.
Progressive
Endorsements & Supporters