You are viewing content from a previous election (August 7th, 2018). You can view information for the current election here.
Denny Heck
Democrat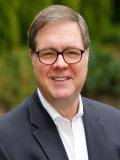 Incumbent Denny Heck has had a long, effective career in both the private and public sectors. In Olympia, he served as a five-term state representative, House majority leader, chief of staff to former Gov. Booth Gardner, and is the co-founder of TVW, Washington state's public affairs network. In Congress, he has fought to make college more affordable, lower health care costs, ensure veterans get the benefits they deserve, and create middle class jobs. He supports immigration policies that create a path to citizenship, and has been working this year to help prevent health care premium increases due to Trump's policies.

Heck is running against Republican Joseph Brumbles, Independent Centrist Nancy Dailey Slotnick, and Independent Progressive Tamborine Borrelli. Brumbles is a business manager and a gun rights advocate. His campaign platform is undetailed and states that he is standing for "liberty." Slotnick is a U.S. Army veteran who seeks to reduce partisanship in politics and put people first. Borrelli is a small business owner and local activist who was inspired to run for office by Bernie Sanders' campaign. She is running to fully fund education, close unnecessary corporate tax loopholes, and to get money out of politics.

Heck is the best choice in this race.
Progressive
Endorsements & Supporters