You are viewing content from a previous election (August 7th, 2018). You can view information for the current election here.
Carolyn Long
Democrat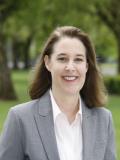 Carolyn Long is an associate professor at the School of Politics at WSU Vancouver. Her platform includes robust health care policies, including protecting the health care of those with preexisting conditions, stabilizing the Affordable Care Act, and providing substantive and equitable health care for those with addiction and mental health issues. She is also prioritizing treating gun violence like a public health crisis, caring for veterans, reforming the tax code to make it fairer for middle-class families, and protecting Medicare and Social Security.
The other Democrats in the race are Dorothy Gasque, David McDevitt, and Martin Hash. Gasque has been endorsed by Our Revolution and is an Iraq war veteran and community organizer who lives in Hazel Dell. She is advocating for ending our wars in the Middle East, as well as a 100 percent renewable energy economy, raising the minimum wage to $15 an hour, and ending the War on Drugs. McDevitt is an Army veteran who is focused on "Putting People First" on a range of issues, including protecting the environment, creating family wage jobs, and expanding health care access. Hash is a perennial candidate whose main campaign focus is "no tolls" and securing "individual rights over group rights."
The leading Republican candidate is incumbent Rep. Jaime Herrera Beutler, an extremely conservative Republican who has consistently sided with far-right members of her party on important issues. In particular, Rep. Herrera Beutler voted in favor of congressional Republicans' $1.5 trillion tax giveaway to corporations and the wealthy few. Michael Cortney and Earl Bowerman are even more extreme.
Long has the broadest support and is the best choice in this race.
Progressive
Endorsements & Supporters