You are viewing content from a previous election (August 7th, 2018). You can view information for the current election here.
Sasha Bentley
Democrat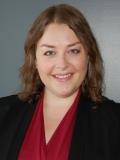 Democrat Sasha Bentley is running to address the opioid crisis in Washington state. Bentley has a progressive, solution-oriented platform that seeks to strengthen Washington's education and health care systems. She wants to push the Legislature to seriously explore alternative ways to deliver critical services like universal pre-K and single-payer health care. Additionally, Bentley believes that in order to strengthen Central Washington's economy, the state must invest in solar and wind energy jobs as well as the Skamania lumber and agriculture sectors.

Bentley is opposed by Democrat Earl Steven Lee, Republican Kathy Coffey, and Republican Chris Corry. Steven Lee is an educator and CEO of an educational organization. Lee is running because he wants to work across the aisle to find community-oriented solutions to address gang violence and homelessness. However, Lee does not appear to be running a competitive campaign. Coffey is a moderate Republican who has a poor track-record on racial equity issues on the city council. In 2017, she voted against proposals to make Yakima an inclusive city for both immigrant and non-immigrant residents. Finally, Corry is a small business owner who has very conservative stances and is opposed to reforms that would fix our state's broken tax system. Bentley is the best choice in this race.
Progressive
Endorsements & Supporters