You are viewing content from a previous election (August 7th, 2018). You can view information for the current election here.
Robbi Katherine Anthony
Democrat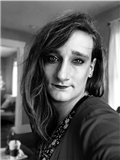 Robbi Katherine Anthony is a trans woman and self-described progressive. Her campaign is prioritizing a data-driven approach to decision-making, repairing the $10 million county budget shortfall, and ensuring that the county is using up-to-date technology. She believes diversity boosts economic growth and is devoted to making Spokane County more inclusive.

Her opponent, Al French, is a conservative developer with a combative style and history of ethics complaints. He has alienated local cities by promoting aggressive urban sprawl and caused them to opt out of a regional garbage system that has cost the county millions in revenue. Anthony is the best choice in this race.
Progressive
Endorsements & Supporters