You are viewing content from a previous election (August 7th, 2018). You can view information for the current election here.
Melanie Morgan
Democrat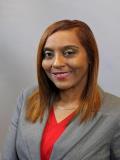 Melanie Morgan is a longtime community leader who is now running for state House in Legislative District 29. Morgan is a U.S. Army Veteran and current Franklin-Pierce School board member who will work to close the achievement gap in our schools. Her campaign platform is focused on affordable housing and reducing traffic gridlock in Pierce County. If elected, she would also work to restore trust between the community and the Legislature by holding regular town halls with constituents across the district. As a school board member, she also recognizes the importance of good teachers and will work to increase pay for educators and ensure they have the resources they need in the classroom.
Morgan is challenging incumbent Rep. David Sawyer. While Sawyer is progressive on most issues, he has been accused of
sexual harassment and inappropriate behavior by at least 8 women he has worked with in Olympia.
An independent investigation by House Democrats found that
Sawyer violated workplace ethics and harassment policies with a wide range of behavior.
We expect our elected leaders to uphold the highest ethical standards and treat women with dignity and respect. We believe Sawyer's treatment of women is unacceptable and has no place in our state Legislature or any workplace.
Also running in this race are Republicans Janice Clark and Terry Harder, neither of whom share Morgan's progressive values and relationships with the community they are seeking to represent. We recommend Melanie Morgan for new leadership for Legislative District 29.
Progressive
Endorsements & Supporters