You are viewing content from a previous election (August 7th, 2018). You can view information for the current election here.
Marko Liias
Democrat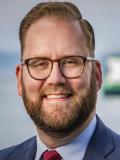 Democratic state Senator Marko Liias has been a consistent progressive advocate for all families. As the Democratic Senate Floor Leader, Sen. Liias has led the fight on LGBTQ equality and helped create a student loan bill of rights. This past legislative session, Sen. Liias' legislation to ban the inhumane practice of gay conversion successfully became law with bipartisan support.

Liias is opposed by Democrat Riaz Khan, Independent Scott West, and Republican Mario Lionel Lotmore. While Lotmore is the only serious challenger in the field, his campaign has failed to provide a comprehensive set of policy solutions that address the needs of working families and small businesses. Liias is the best choice in this race.
Progressive
Endorsements & Supporters