You are viewing content from a previous election (August 7th, 2018). You can view information for the current election here.
Lillian Ortiz-Self
Democrat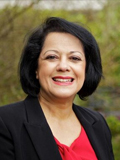 Rep. Lillian Ortiz-Self is running for re-election to the 21st Legislative District House Position 2. Since joining the state House in 2008, Rep. Ortiz-Self has emerged as a progressive leader fighting tooth and nail to improve the lives of mothers and children in Washington state. Currently, Rep. Ortiz-Self serves as Deputy Chair of the House Democratic Caucus and on the House Early Childhood and Human Services Committee. Additionally, she has been a member of the state's Educational Opportunity Gap Oversight and Accountability Committee for more than six years. An active community member, Rep. Ortiz-Self is strong on social issues and focused on creating new pathways to strengthen the middle class and early childhood education.

Rep. Ortiz-Self is facing a challenge from Republican Petra Bigea, who is running on an anti-tax and anti-regulation platform. Rep. Ortiz-Self is the clear choice in this race.
Progressive
Endorsements & Supporters