You are viewing content from a previous election (August 7th, 2018). You can view information for the current election here.
Jack McEntire
Democrat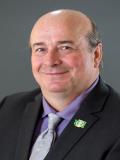 Democrat Jack McEntire is running to represent the 15th Legislative District in Olympia. Currently, McEntire serves as the Vice Chair of the Yakima County Democrats. He is heavily involved in the community and believes that Washington's working families deserve leadership that prioritizes children and public safety.

McEntire is challenging Republican Rep. Bruce Chandler, who has done a poor job providing policy solutions to struggling working families. Rep. Chandler has opposed progressive economic reforms like raising the minimum wage and ensuring equal pay protections for women and minorities. McEntire is the clear choice in this race.