You are viewing content from a previous election (August 7th, 2018). You can view information for the current election here.
Connie FitzPatrick
Democrat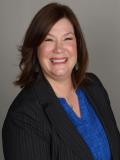 Navy veteran Connie FitzPatrick is running for the 26th Legislative District House Position 1. She is running on a platform of providing affordable higher ed and training programs, reducing transportation costs, and improving veterans care.

Fitzpatrick is running against incumbent Jesse Young. Rep. Young's priorities include reducing the number of people on Medicaid and replacing the Affordable Care Act, though he does not say what the alternatives will be for health care. Similarly, Rep. Young decries the Washington State Department of Transportation, but offers no solutions for better, more accessible public transit.

Fitzpatrick is the best choice in this race.
Progressive
Endorsements & Supporters